BRAND NEW 5DR LEON 1.4TSI FR TECH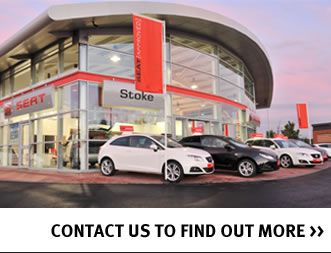 Spec includes:
17" Dynamic Alloy Wheels
Sat Nav
Dual-zone climate control
and £2,250 DEPOSIT FROM US
£273 DEPOSIT from you
THEN ONLY £273 PER MONTH X 48
Click here to contact us now or call Barlow Motors on 01902 714503 or Stoke SEAT on 01782 377200.
Terms & Conditions*
At the end of the agreement there are three options: i) own the vehicle: pay the optional final payment; ii) return the vehicle: subject to fair wear and tear, charges may apply; or iii) replace: part-exchange the vehicle. Available on a Solutions Personal Contract Plan. 18s and over. Subject to availability. Finance subject to status. Terms and conditions apply. All retail prices, savings, minimum part exchange figures and finance figures shown include Test Drive extra saving offer. Minimum part exchange not available in conjunction with finance deposit contribution. Test Drive extra saving offer excludes Motability, Business Users and Personal Contract Hire offers. Retail sales only. Subject to availability. Orders between 04/04/2018 to 02/07/2018 and registered by 31/08/2018 18s+. Retail only. Not available in conjunction with the SEAT Scrappage Incentive. T&Cs apply. SEAT LEON 1.4 TSi SE FR TECH. Period of Hire: 49 months. Cash price £19,550.00 including £500 Test Drive Saving. Less finance deposit allowance from SEAT finance £2,250.00. Less advance payment/allowance from customer £273.00. Balance of cash price / amount of credit £17,027.00. Add Charges £2,938.12 Balance £19,965.12. Balance payable by 48 monthly rentals of £273.44. Followed by a final rental of £6,840.00. Acceptance fee payable with first rental £0.00. Purchase fee payable with final rental £10.00. Total amount payable £22,498.12. Fixed rate of interest 6.1%. Annual percentage rate 6.0%. Maximum annual mileage 5,000 miles. Excess mileage charges of 6 pence per mile apply if you return the vehicle at the end of the agreement.